About Back2Health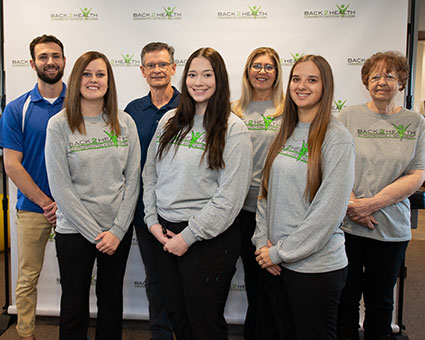 Our Mission
Our mission at Back2Health is to inspire, enable and encourage others to pursue better health physically, mentally and spiritually through excellent chiropractic care. We strive to inspire and encourage our patients to focus on restoring their health, not simply getting out of pain.
We set a good example for our patients by being active ourselves—Dr. Snider does full Ironman triathlons as well as marathons, Dr. Daniels cycles, golfs and lift weights ,and one of our staff members does frequent pickleball tournaments. We have the same issues other folks have, and we get adjusted regularly to keep moving and functioning optimally.
We offer a team approach to care, with two outstanding chiropractors who collaborate to design the best treatment plan for each patient.
Our History
Dr. Snider was born and raised in Vincennes and, after attending Logan College of Chiropractic in St. Louis, he returned home in 1987 and opened the practice to take care of people in his community. Dr. Daniels is also from Vincennes and joined the practice in 2020.
We provide care with Zig Zigler's philosophy that "you can have everything in life you want, if you will just help enough other people get what they want." We're from here, and we love taking care of our neighbors.
MEET THE DOCTORS »
Success Stories
We care about each and every person we work with, and every patient's success is important to us. We had a senior lady come to us using a walker and, after addressing her issues, she regained her mobility and was able to walk without a walker for nine more years. A young woman cross-country runner came to us to help optimize her performance and improved her time so much that she won her division. We've had many children who were slated for ear-tube surgery come to us first—chiropractic care cleared their ears and they didn't need surgery.
A Family Practice
We treat your family like part of our own family, and we want the same level of results for you. We genuinely care and will do our utmost to help you achieve your wellness goals.
Get Started with Care
We look forward to welcoming you into our care. Contact us today to book an appointment for yourself or your family.
---
About Back2Health | (812) 882-1241