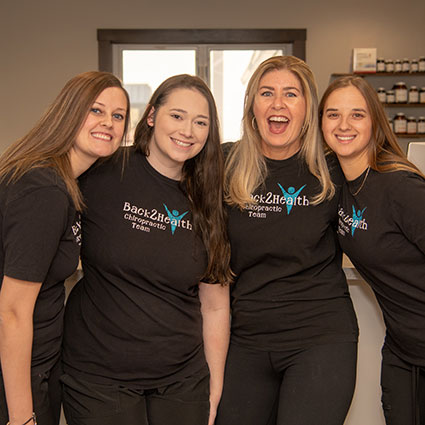 Back2Health Reviews
What Our Vincennes Patients Say
At Back2Health we love when patients share with us their feedback and comments after chiropractic care. Please read our patient testimonials below to see what other people have achieved through their tailored treatment plans with us.
Share your stories too! Click here to send us your feedback so that we can help to spread the word about the benefits of natural Back2Health care.
For more information, or to schedule an appointment contact us today.
---
Felt Important
Chiropractic care has helped me by keeping me moving. Chiropractors help maintain my neck and hips, not only the spine but the muscles also. Without my adjustments I don't think id be able to function and do everyday chores. Back2Health staff is always friendly, they make you feel like you matter and are important. I highly recommend everyone to go to a chiropractor to make sure their spine is in alignment.
– Joan M.
Courteous and Professional
I have always had a positive experience with Dr. Snider and staff. A 2nd back surgery would have been necessary if not for them. They are courteous, professional, and provide a Christian atmosphere I look forward to returning to.
– Kevin S.
Pain Free
I have suffered from back pain for years and chiropractic care has helped keep me pain free and able to do normal activities. Dr. Snider, Dr. Daniels and staff are courteous and professional.
– Shawna B.
Feeling Alive
I have been hesitant to return to chiropractic care. I am glad I did because Dr. Daniels did an excellent job with the consult and care during my appointment. Healing hands are the best medicine. Looking forward to getting better sleep and feeling more alive in the weeks to come.
– Danny P.
Thank You!
After two years of lower back pain, I was diagnosed with stage 1 degenerative joint disease in my lumbar vertebrae. With my monthly chiropractic maintenance appointments, I am living pain free! Thank you Back to Health!
– Melody C.
---
Back2Health Reviews | (812) 882-1241