Sports Chiropractic at Back2Health
Sports Chiropractic Isn't Just for Pros
Sports chiropractic helps ensure your body can perform at its highest level, whether you're running around with your kids or grandkids or playing professional sports. Dr. Snider and Dr. Daniels have extensive experience with athletics and exercise science, and they collaborate to provide the best care to help you optimize your performance. Dr. Snider is a Certified Chiropractic Sports Physician and Dr. Daniels has education in exercise science and has worked as an athletic trainer.
Offering an In-depth Evaluation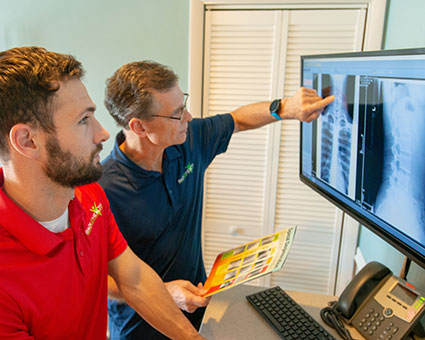 We take the time to listen as you completely describe your symptoms, how it started, and what your pain is keeping you from doing. Then we'll do an in-depth evaluation, which may include a gait analysis and posture analysis in addition to a thorough spinal examination. We don't just look at the area that's affected—we look at you as a person, and examine your entire spine. We'll usually take X-rays, unless you have recent images you can bring.
After your visit, we'll have a team meeting where our doctors will review your evaluation and X-rays to help them devise the best treatment plan possible for your situation. At your second visit, we'll do a full report of our findings, explaining what we found, why it's causing the problem, and our plan to correct it. We'll let you know the cost and how long we think it will take, so there aren't any surprises.
NEW PATIENTS »
Your Treatment Plan
Your treatment plan will include chiropractic adjustments in addition to other therapeutic modalities, which may include:
Therapeutic exercise
Manual therapies
Cupping
It's Good for the Pros, It's Good for You
Some patients are hesitant to try chiropractic care for sports injuries or to improve their performance. We remind them that every major professional and college team in virtually every sport employs a team chiropractor because they recognize the benefits of chiropractic to speed healing of injuries and to optimize performance and help prevent injury.
Optimize Your Performance Today
Play your game at your best level. Contact us today to schedule an appointment.
---
Sports Chiropractic Vincennes IN | (812) 882-1241